Review
TWO DOORS DOWN ● 09.23.2023 ● BRANTFORD EDITION
BLACK BUDGET  ●  RUBY DOOM  ●  STATIC SAFARI

Discovering one of ontario's hidden punk rock dreams
"

The night was a whirlwind, and the excitement of the entire show made it difficult to sleep"
REVIEW
We stumbled into one of the purest and most supportive scenes imaginable, and it perfectly embodies what Critical Zero is all about. It aligns seamlessly with our primary goal of running the media side to promote bands, artists, and promoters. When we initially launched Critical Zero, its always been dedicated to the music fans first and foremost, as well as the bands and industry friends who often work for little to no pay to help promote the music they love. This includes photographers, promoters, graphic designers, and merchants in the punk and indie rock subculture. It truly feels like a family.  
We had a profound sense of this when we spoke with Issa Mohammad from the Sun Junkies and Bummer Records before the show. He spoke about the closeness of the music community while he proudly displayed a stack of Brantford music scene trading cards. The concept was brought to life by Ryan, the singer from Static Safari, the reason we were all gathering that night: to celebrate their new EP release for "Stage Invader".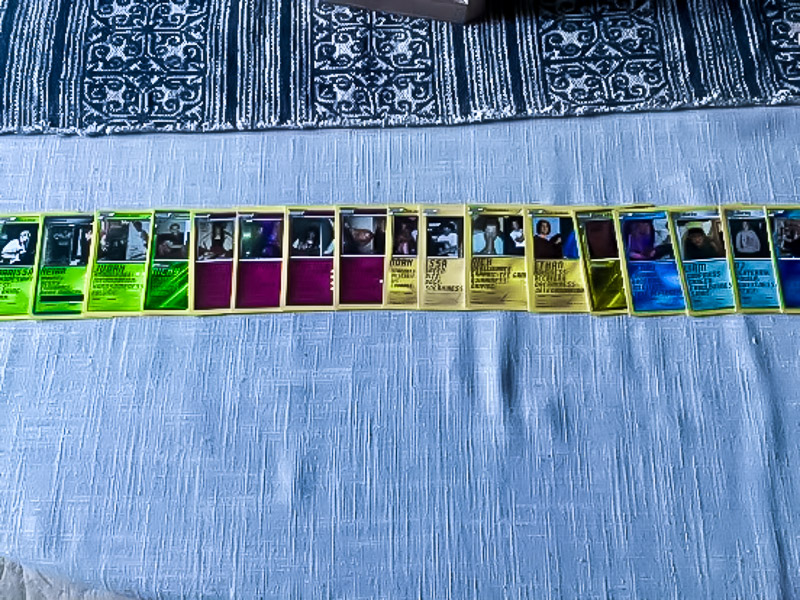 Our introduction to Static Safari occurred when Black Budget played in Guelph, thanks to the hard work of Jesse Alarcon, an amazing individual who promotes events and works as a sound engineer. That night was unforgettable, and Static Safari's performance was incredible. We were thrilled to be part of their release show!  
The Two Doors Down venue left a lasting impression on us. It wasn't just any random pub or venue; it was adorned with flyers from past events, featuring some of the bands we've showcased on our own playlists. They include some quality bands that will be remembered for pushing music forward in the Canadian music scene. While Ontario often focuses on hip hop and DJ nights, these bands are the ones pushing against the grain to put Ontario's music on the map. Bands like Strawberry Cough, MVLL Crimes, Sun Junkies, and Static Safari. 
We must also mention the merch tables! Each band had creatively designed cases to display their merchandise. Static Safari's merch box was adorned with Tom Jones records, Ruby Doom had a doll that appeared to be transformed into a bong with candle wax, and Black Budget had a glowing alien head. The night ahead looked pretty rad. We were fortunate to engage with many people at the show, and it was heartwarming to see everyone's enthusiasm as they spoke about the scene and the bands. This made it an absolute joy to photograph, mosh, and dance.  
First on stage was Black Budget, facing an entirely new crowd, and they were excited to perform for everyone. They managed their performance well, even igniting a few mosh pits, and they poured their hearts into it. They played a full set of their own material, and their smiles were infectious as they brought intense and aggressive energy throughout the entire set. The vocals were crystal clear, and, as usual, they left a lasting impression. It was a great way to kick off the night.  
We were eagerly anticipating Ruby Doom's performance, especially after seeing the merchandise they were selling. This four-piece powerhouse tore through their sets, driving the crowd to madness. They had everyone enthralled, from sitting on the ground to inciting explosions of energy. Wow! We can't wait to hear more from this band, especially when they start releasing new music. Their punk rock riot girl sound had everyone moshing, and the venue erupted as body surfers nearly collided with ceiling fans. For Toronto's punk rock enthusiasts, catch them at Horseshoe Tavern on October 16. Don't miss it! You'll love them!  
Next up was Static Safari, they delivered another outstanding performance. We were already thrilled due to our previous experience watching them play. They have a solid sound that channels post-punk rock vibes with '80s influences and addictive basslines. The room was electric with people singing, moshing, and even body surfing. The set even featured members of Sun Junkies jumping in, making it even more special. One of my favorite moments, aside from their original songs, was hearing Surf Curse's "Freak" and the crowd screamed out all the lyrics. We were so proud of the boys!  
In addition to the bands, we had the pleasure of meeting many wonderful people. Their faces were aglow with the joy of being at the show and the pride of supporting a band they love, either through their music or because they grew up with them. It was a unique story and adventure, one that makes us want to start writing interviews to hear more stories from the Brantford music scene and share them for inspiration.  
The night was a whirlwind, and the excitement of the entire show made it difficult to sleep. It was incredibly inspiring and wonderful, introducing us to a whole new list of bands to check out, thanks to those trading cards! This event deserves a 5-star review for providing a safe space to mosh and enjoy some of our favorite bands. There wasn't a single bad moment or band that night. Each band had its own unique sound and was a true gem, igniting spontaneous mosh pits and screams from the audience. They absolutely nailed it.  
We extend our heartfelt thanks for the hospitality, passion, and love that went into creating such a wonderful scene!